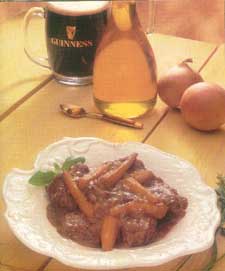 In honor of St. Patrick's Day, I wanted to share with you my new favorite Irish dish to serve my family. It is rather simple to make and I have yet to find someone who didn't like it! Add some champ ( Irish potato dish ) and some soda bread and you have the perfect meal for a rainy March day! I found this recipe courtesy of
www.irishcultureandcustoms.com
. Lá Fhéile Pádraig!
Ingredients:1 1/2 pounds chuck or round steak
1/2 lb carrots
2 medium onions
2 tablespoons all-purpose flour seasoned with salt & pepper to taste
2-3 tablespoons cooking oil
1/2 tsp fresh basil, minced
2/3 cup Guinness
1 tsp honey
2/3 cup beef stock or water
sprig of parsley

Method:
1. Cut beef into chunks
2. Peel and chop the onions; peel and slice carrots into pieces about the size of your little finger
3. Heat the oil and cook the onions until they are soft. Transfer with a slotted spoon to a large, shallow, oven-proof dish
4. Toss the beef in the flour and brown quickly in the hot fat
5. Remove the beef and place on top of the onions. Arrange the carrots around the beef
6. If necessary, add a little more fat to the pan and stir in the left-over seasoned flour. Cook for a minute or two, stirring constantly
7. Add the basil and the Guinness. Allow to cook for another minute or two and then add the honey and the stock. Again, bring to a boil and then pour over the beef, carrots and onions
8. Cover with a lid or foil and cook in a 325 degree oven for about 1 1/2 hours.
9. At serving time, sprinkle with chopped parsley.
Serves 4
I also want to talk about the true meaning behind St. Patrick's Day. Most of us associate St. Patrick's Day with parades, green beer and wearing green or "Kiss Me, I'm Irish" shirts. But how many of us really know what St. Patrick's Day is celebrating?? Since I come from a very Irish family (maiden name is O'Connell!) I feel it is important to be educated on our culture. One way I have been able to honor my heritage is by giving both my daughters Gaelic spellings for their names ( Madailein and Caitlyn ).
Back on track to St. Patrick's Day! St. Patrick is the patron saint of Ireland and introduced Christianity to the people of Ireland in the 5th century. St. Patrick used the shamrock to explain the Holy Trinity to the pagans; which is why the shamrock is the national flower of Ireland.
Traditionally, St. Patrick's Day was intended to be a day of spiritual renewal and offering of prayers. March 17th is the day St. Patrick died and is observed as a religious holiday in Ireland. This holiday usually falls during Lent, so the Lenten ban of eating meat is lifted on this day.
St. Patrick was born with the given name of Maewyn Succat. He was born into a wealthy family in Britain and was taken as prisoner at the age of 16 by Irish raiders. He was then sent to Ireland and became a slave for six years. St. Patrick spent these six years as a shepherd and became a Christian for solace. Eventually he escaped and returned to his family in Britain - where it is believed an angel came to him in a dream and told him to return to Ireland as a missionary. His religious training continued over the course of 15 years before he returned to Ireland to convert the people there to Christianity.
So, as you celebrate today keep in mind the true meaning behind this joyous holiday!! Enjoy!
Please visit Ourjourneytoasimplerlife.blogspot.com for more Crafty Friday ideas and also visit Comfynkitchen.blogspot.com for Feasting in Fellowship Fridays!